Dr. Finn Named Dean of the University of New Mexico School of Medicine
Dr. Finn Named Dean of the University of New Mexico School of Medicine Heading link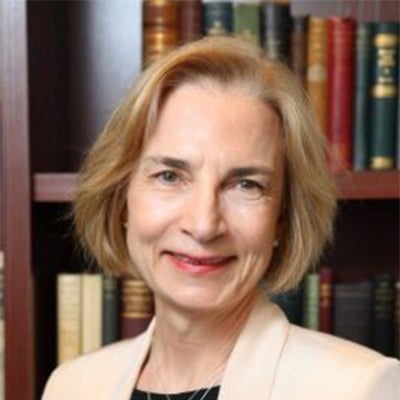 Patricia Finn, MD, has been named Dean of the University of New Mexico School of Medicine, becoming the school's fifth dean in its 61-year history and first woman to hold the position. Her new role at UNM School of Medicine will be effective Sept. 1.
Dr. Finn currently serves as head of the Department of Medicine, associate dean of strategic initiatives, and associate program director for the Medical Scientist Training Program at the University of Illinois College of Medicine. Having arrived at the College of Medicine in 2012, Dr. Finn is the Earl M. Bane endowed professor, with additional faculty appointments in Microbiology & Immunology, and Biomedical Engineering.
"We're so very excited for Dr. Finn," College of Medicine Executive Dean Mark Rosenblatt, MD, PhD, MBA, MHA, said. "This is a remarkable opportunity for her, one she very much deserves after a decade of extraordinary leadership at the College of Medicine."
An interim head of the Department of Medicine will be named prior to Dr. Finn's departure, followed by an expansive search for a permanent department head.
Dr. Finn is a physician-scientist focusing on immune mediated pulmonary diseases, including asthma, sarcoidosis, and transplantation, lung injury. She graduated medical school and residency at Albert Einstein College of Medicine and completed a postdoctoral fellowship in immunology at the Harvard School of Public Health. Dr. Finn was a physician and investigator at Brigham and Women's Hospital, Harvard Medical School and Kenneth M. Moser professor of medicine and the director of the Division of Pulmonary and Critical Care Medicine at University of California, San Diego before joining the College of Medicine.
She has a strong history of NIH and extramural funding. Dr. Finn publishes articles and chapters and has a prolific history as a lecturer at national and international academic meetings. Her prior leadership roles include president of the American Thoracic Society and president of the Association of Professors of Medicine.
"We are fortunate to have recruited Dr. Finn to lead the School of Medicine," said Douglas Ziedonis, MD, MPH, executive vice president for Health Sciences and CEO of the UNM Health System. "She is a national and international leader who has made a significant impact in her prior leadership roles and is also a very well-respected clinician, teacher, mentor, and researcher. Her mature leadership abilities, commitment to inclusive excellence and strong sense of the mission to enhance the health of all New Mexicans is quite clear."
Modified on May 08, 2023