Faculty of the Year, Rising Star Award Recipients at Chicago Campus Honored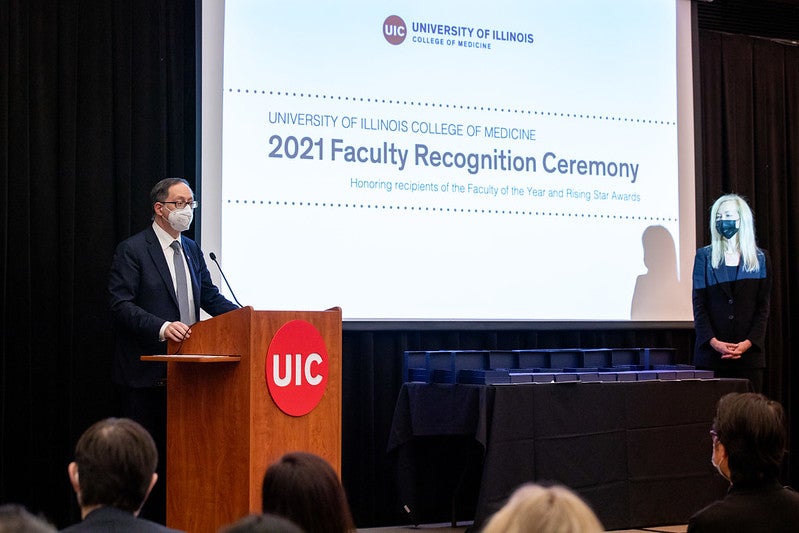 The University of Illinois College of Medicine honored its Chicago campus faculty on Thursday during the 2021 Faculty Recognition Ceremony at Student Center West. The ceremony honored recipients of the Faculty of the Year and Rising Star awards.
Nominees for the Departmental Faculty of the Year Award are selected from the mid-career and senior faculty, based on a demonstrated record of excellence in teaching, research or service. Awardees are normally at the associate professor or professor level, although assistant professors who have served on the UIC faculty for over ten years may also be considered.
Nominees for the Departmental Rising Star Award are selected based on their strong potential to be future leaders in their chosen field. Awardees are at the rank of Assistant Professor or Associate Professor and have served on the UIC faculty for less than 10 years.
Click to view photos from the ceremony.
Award Recipients
Faculty of the Year
Gerardo Morfini, PhD, Department of Anatomy & Cell Biology
Bernard Pygon, MD, Department of Anesthesiology
Steven J. Ackerman, PhD, Department of Biochemistry & Molecular Genetics
Eben Alsberg, PhD, Department of Bioengineering
Carissa Tyo, MD, Department of Emergency Medicine
Evelyn Figueroa, MD, Department of Family & Community Medicine
Sandra Sufian, PhD, Department of Medical Education
Min Joo, MD, Department of Medicine
Martin Kelly Nicholas, MD, PhD, Department of Neurology
Catalin Buhimschi, MD, Department of Obstetrics & Gynecology
Deepak Edward, MD, Department of Ophthalmology & Visual Sciences
Shrihari Kadkol, MD, PhD, Department of Pathology
Lewis Hsu, MD, PhD, Department of Pediatrics
Ahlke Heydemann, PhD, Department of Physiology & Biophysics
Maria Caserta, MD, PhD, Department of Psychiatry
Karen Xie, DO, Department of Radiology
William J. Ennis, DO, Department of Surgery
Michael Abern, MD, Department of Urology
Rising Star
Swetha Gowrishankar, PhD, Department of Anatomy & Cell Biology
Sabine Kreilinger, MD, PhD, Department of Anesthesiology
Shafi Kuchay, PhD, Department of Biochemistry & Molecular Genetics
James Lee, PhD, Department of Bioengineering
Christopher M. Colbert, DO, Department of Emergency Medicine
Nicole Gastala, MD, Department of Family & Community Medicine
Stockton Mayer, DO, Department of Medicine
Justin Richner, PhD, Department of Microbiology & Immunology
Gabriela Trifan, MD, Department of Neurology
Tamika Alexander, MD, Department of Obstetrics & Gynecology
Peter MacIntosh, MD, Department of Ophthalmology & Visual Sciences
Omar Perez, PhD, PharmD, Department of Pathology
Reshma Shah, MD, Department of Pediatrics
Jae-Won Shin, PhD, Department of Pharmacology & Regenerative Medicine
Jonathan L. Coloff, PhD, Department of Physiology & Biophysics
Tory Eisenlohr-Moul, PhD, Department of Psychiatry
Andrew Lipnik, MD, Department of Radiology
Gerald A. Gantt, Jr., MD, Department of Surgery
Mahmoud Mima, MD, Department of Urology
Modified on May 08, 2023