UI COM Celebrates Graduating Students with 140th Commencement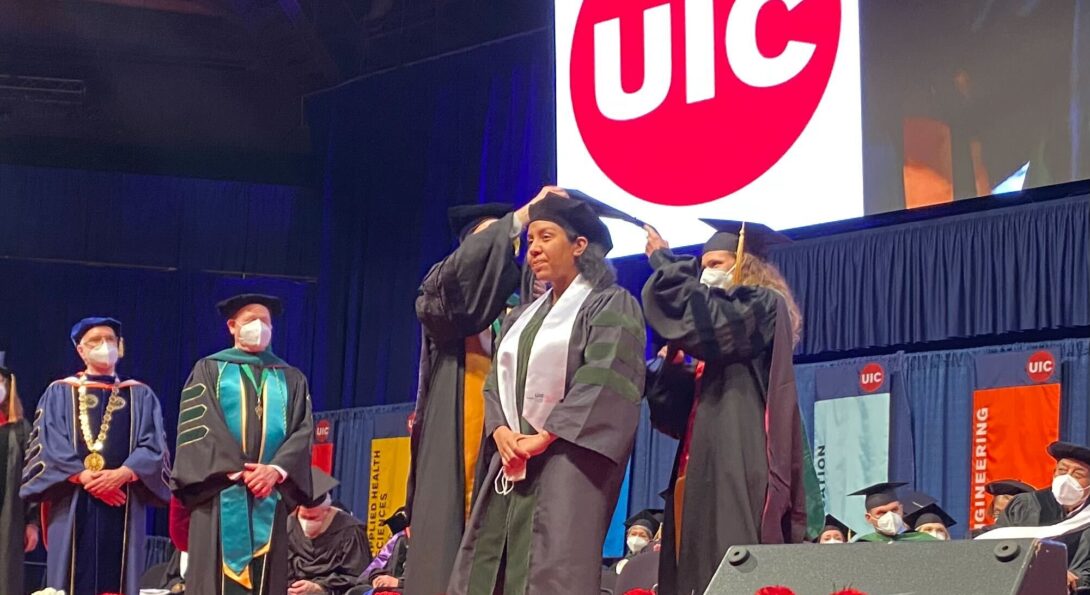 The University of Illinois College of Medicine celebrated its 140th commencement on Friday, May 6, at Credit Union 1 Arena, with an in-person celebration taking place for the first time since 2019. The last two ceremonies took place virtually because of the COVID-19 pandemic.
The ceremony honored 375 graduating students from its various degree programs, with 317 receiving their MD degree, constituting one of the largest graduating medical school classes in the United States. The Class of 2022 includes 183 who have completed the MD degree in Chicago, 64 in Peoria, 57 in Rockford, and 13 in Urbana. The Urbana campus, which opened in 1971, is celebrating its final graduating class this weekend.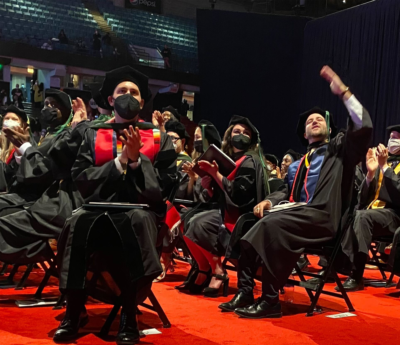 A livestream recording is available for those unable to attend or who wish to re-watch the ceremony.
These new physicians will continue their professional training in one of 20 medical specialties across 31 states. In addition, 141 of those who graduated will be entering their residency programs in Illinois. One in five physicians currently practicing in Illinois received their MD degree from the College of Medicine, and more than 40 percent completed some portion of their training in UI COM programs.
Senior Associate Dean for Educational Affairs Raymond H. Curry, MD, FACP, once again served as grand marshal of the ceremony, with greetings from University of Illinois System President Timothy L. Killeen, PhD, and Vice Chancellor of Health Affairs Robert Barish, MD, MBA.
"This is a special day and a proud achievement," College of Medicine Executive Dean Mark I. Rosenblatt, MD, PhD, MBA, MHA, told the graduating students. "Soon, you will begin your careers as physicians or biomedical scientists. Your careers will take you into challenging residencies, demanding post-graduate programs, or new career positions. I am confident that the foundation in science, medicine and service to the community that you have received at this college has prepared you for your continued future achievements. I know that each of you has worked diligently to reach this day, and you should take great satisfaction in your accomplishments."
The College also awarded 11 PhD degrees, and 47 master's degrees, spanning anatomy and cell biology, physiology and biophysics, patient safety leadership, and clinical translational sciences.
Perri Klass, MD, Professor of Journalism and Pediatrics at New York University and Co-Director of NYU Florence, served as the College of Medicine ceremony commencement speaker. For many years, Dr. Klass wrote the weekly column, "The Checkup" in The New York Times. Her medical journalism has appeared in a wide variety of publications, including The Washington Post, The New Yorker, Smithsonian, Harpers, The Atlantic, and The New England Journal of Medicine.
Dr. Rosenblatt also honored the recipients of the Dean's Distinguished Service Award, the Dean's Award for Excellence in Healthcare Leadership, and the Faculty of the Year Award. Associate Dean for Medical Education at the Chicago Campus Heather Heiman, MD, recognized the 2022 Golden Apple Award recipients.
Dr. Mathikere Ramaiah Jayaram, chairman of the Gokula Education Foundation, a non-for-profit organization based in Bengaluru, India, dedicated to providing affordable higher education and health care, received the honorary degree of Doctor of Humane Letters.
Alex Wind, MD, president of the Class of 2022 provided remarks on behalf of the class.
After Dr. Rosenblatt led graduating students in the Physician's Pledge, Dr. Curry closed out the ceremony
Modified on May 08, 2023