Jesse Brown VA Research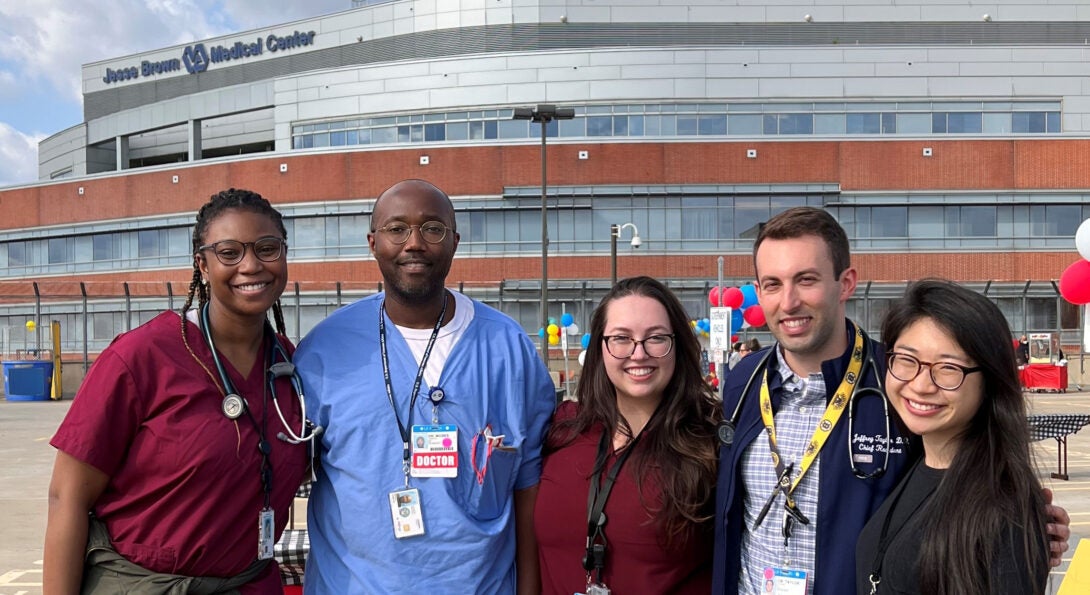 Engaging in Research with the Jesse Brown VA Medical Center Heading link
There are two distinct routes to engaging in research activities at the Jesse Brown VA Medical Center. One involves applying for and receiving congressionally appropriated funding directly through the Department of Veterans Affairs. The other involves externally funded projects (NIH, DoD, Private Sponsorship, Foundations) that require the use of Jesse Brown VA Medical Center resources (personnel, laboratory or office space, engaging VA patients).
Non-VA Funded Research

Jesse Brown VA is partnered with the Chicago Association for Research and Education in Science (CARES®), an Illinois-registered, non-profit, corporation, which administers all non-VA funded, VA-approved research and related medical and scientific education funding.

If your research involves using Jesse Brown VA facilities (hospital or laboratory) or staff, CARES should be contacted early in the proposal and budget development phase.

CARES was established in 1984 at the Edward Hines Jr. VA Hospital.  It has also served as the nonprofit corporation of record for Lovell FHCC.  In 2019, William S. Middleton Memorial Hospital, and in 2020, Jesse Brown became VA sites served by CARES.

CARES serves as the institution of record for NIH, DoD, industry, foundation, and other externally funded research conducted at Jesse Brown.

For NIH, DoD, or other non-VA federally funded research, CARES can serve as the Prime awardee and issue a subaward to UIC or be a subawardee on a UIC Prime award. This decision should typically be made based on where the preponderance of work will be conducted.  If other factors are to be considered, approval would be required from the Associate Chief of Staff for Research at Jesse Brown.

For industry or foundation funded research it is likely that each institution, UIC and CARES, would need to develop separate agreements with the sponsor.

The strength of CARES lies in its ability to understand and quickly respond to the unique needs of the research community. CARES is especially useful to investigators in the hiring of clinical research coordinators, research assistants or other personnel, purchasing equipment or supplies and managing travel funds. CARES is not bound by VA regulations related to these activities.

CARES attempts to be as flexible and non-restrictive as possible, while meeting its obligations as a non-profit organization. The CARES Board of Directors consists of individuals with an extensive background in health care and research.

Please contact CARES early in the proposal development stage

If using Jesse Brown VA facilities or personnel.

Lauren Rich
Chief Executive Officer
708-343-6379
Lauren.Rich@va.gov
May I apply for VA funding as a UIC faculty member?

Yes, but you must agree to accept a minimum 5/8th (25 hrs/week) salaried VA appointment if approved for funding. But the combined appointment between UIC and VA cannot exceed 150% (12/12ths)

If you are a non-physician scientist, you need to seek eligibility approval prior to submitting a grant application.

If you are a physician scientist, you can seek funding without prior eligibility approval. However, you must accept VA appointment prior to receiving funding.

How do I obtain physical research space at JBVAMC.

Contact Ms. Karen Lenehan, the Administrative Officer of R&D Service:

May I conduct industry sponsored research at JBVAMC?

The prospective PI must have an appointment at JBVAMC either with or without compensation before initiating said research project.

Industry sponsored research at JBVMAC is administered through CARES, its independent nonprofit 501(c)(3) corporation (https://www.cares-research.org/).

Contact Ms. Karen Lenehan, the Administrative Officer of R&D Service:

Karen.Lenehan@va.gov
312-569-6343 (Phone)
312-569-8114 (Fax)

What are the types of research being done at the JBVAMC?

JBVAMC Research and Development Unit oversees research that includes all phases of research from early laboratory based investigations through cell and animal modeling, to human clinical trials. Core Facilities at JBVAMC include : Jesse Brown VA Medical Center Motion Analysis, Research Laboratory, Small animal imaging system, Human tissue Repository and LC-MS-MS (liquid chromatography with tandem mass spectrometry).

The Veterinary Medical Unit (VMU) is a temperature/light-automated, specific-pathogen free animal facility).  The VMU facility is managed by the UIC Animal Care Division and is AALAC-certified.  Housing and care of animals is under direction of Robin McWherter and Dr Jeff Fortman (DVM).  Investigators have rooms dedicated for mice and rats, and rooms for behavioral studies.

What is the current research portfolio of the JBVAMC?

For FY 2020, JBVA MC Research funding is in excess of $10 million dollars, this includes 54 current Merit Awardees, 1 Career Development Awardee and 9 Research Career Scientists.  In addition, numerous industry-, federal-, and foundation-funded research projects are managed by JBVAMC's research and education corporation, the Chicago Association for Research and Education in Science (CARES).

Are there UIC faculty doing research at the JBVA MC?

Yes!  At the JBVAMC there are 34 current Merit Awardees, 1 Career Development Awardee, and 9 Research Career Scientists, who are UIC faculty.  Many of the awardees have research that span both UIC and JBVAMC. Several UIC faculty have patents in partnership with the JBVAMC.  In addition, the following UIC/JBVAMC faculty have taken their innovative therapies to the patients that need them through commercialization.

Bellur S. Prabhakar, Ph.D.
Mark Rasenick, Ph.D. http://www.paxneuroscience.com/
Guy L. Weinberg, M.D.
Douglas L. Feinstein, Ph.D. EnSol Therapeutics https://www.ensol-therapies.com/

UIC faculty who have joint appointments at the VA also conduct clinical trials at JBVAMC that are relevant to the VA patient population.

If I work at the VA and at UIC, which institution "holds" the patent if one is submitted?

All disclosures are made to both UIC (Office of Technology Management) and the VA. Office of Technology Management (OTM) will work with the VA central office and together determine whether the IP belongs to the VA, UIC or shared between the two institutions. Royalties can be received by both institutions as well as the faculty as per OTM and VA distribution guidelines.

What type of clinical work is done at the VA?

The JBVAMC is a full-service inpatient hospital and outpatient clinic caring for all the health needs of the veteran population in central Chicago, and the region.  This includes specialized services for patients with Cancer, it is a Prostate Cancer Center Foundation – VA Center of Excellence  (https://www.pcf.org/va-partnership/). It also features  specialized areas of Behavioral/Mental Health, Women's Health, and Stroke/Neurologic Disorders.   

When did UIC and the VAMC becomes Academic Partners?

There were a large number of returning servicemen filling VA Hospital beds after World War II. There was also a critical shortage of physicians. January 3, 1946, President Harry Truman signs Public Law 79-293 creating the Department of Medicine and Surgery (which was the forerunner of the Veterans Health Administration).  One Day Later, January 4, the University of Illinois College of Medicine and Northwestern University placed 56 residents at Hines VA General Hospital in Maywood Illinois, for the 1st of its kind program in the nation.  These partnerships expanded and continue to this day, and now also include the Jessie Brown VA Medical Center.