Dr. Aiyer Named Regional Dean For University of Illinois College of Medicine Peoria
Dr. Aiyer Named Regional Dean For University of Illinois College of Medicine Peoria Heading link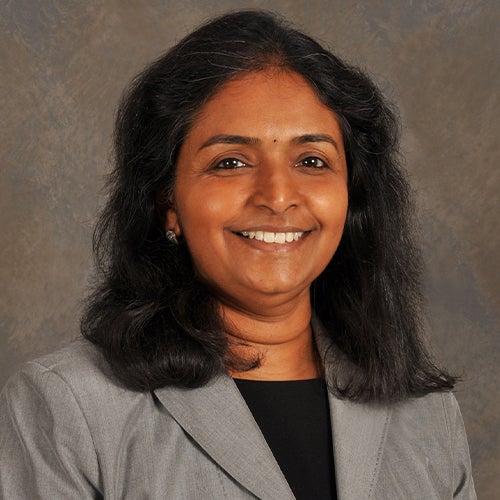 Following a national search, Meenakshy Aiyer, MD, MACP, has been appointed Regional Dean for the University of Illinois College of Medicine Peoria (UI COMP) campus. The announcement was made today by University of Illinois College of Medicine Executive Dean Mark Rosenblatt, MD, PhD, MBA, MHA.
Dr. Aiyer has been appointed as Regional Dean Designate, effective February 1, 2022. Subject to approval by the Board of Trustees, she will become Regional Dean effective March 18, 2022.
Dr. Aiyer becomes the eighth regional dean to lead the Peoria campus since its founding in 1970 and follows her appointment as interim regional dean in April 2019, succeeding Dr. Sara Rusch. Prior to taking over as interim dean, Dr. Aiyer served as Associate Dean for Academic Affairs at the Peoria campus, where she was responsible for medical student education. Dr. Aiyer also holds the titles of Professor of Clinical Medicine and Head of the Department of Health Sciences Education, a department she helped design and create.
Born and raised in India, Dr. Aiyer received her medical degree from the Madurai Kamaraj University. She came to the United States to complete her internal medicine residency at the University of Louisville and UI COMP, where she served as chief resident. Dr. Aiyer remained in Peoria and joined the faculty of the College of Medicine in 1996, following her residency.
Dr. Aiyer is a champion for medical education and curriculum development. An internist by background and a hospitalist, she was actively engaged in resident education and training. The former director of the U ICOMP Caterpillar Faculty Scholars Fellowship, she has mentored over 50 junior faculty. She was instrumental in the expansion of the Peoria campus to a four-year medical school campus and is a proponent of curricular innovation and technology-enhanced medical education.
As Interim Regional Dean, Dr. Aiyer has been an integral leader for not only the Peoria campus but also the College as a whole during the COVID-19 pandemic. The UI COMP Graduate Medical Education program expanded, adding two new fellowship programs during the pandemic, and the regional campus's research efforts have additional infrastructure and support with the creation of a Research Services Division to support and elevate the research and scholarship for faculty, staff and learners. Her efforts supporting philanthropy led to the establishment of two endowed professorships and more than $1.5 million in new student scholarship and rural education endowment.
Additionally, Dr. Aiyer leads a Peoria Healthcare Collaborative Initiative to identify and address healthcare disparities. She also continued the vision for the campus by embarking on a Strategic Planning initiative, building on the University of Illinois College of Medicine College-wide effort.
Modified on May 08, 2023