Alumnus Dr. Irwin Establishes Named Deanship at College of Medicine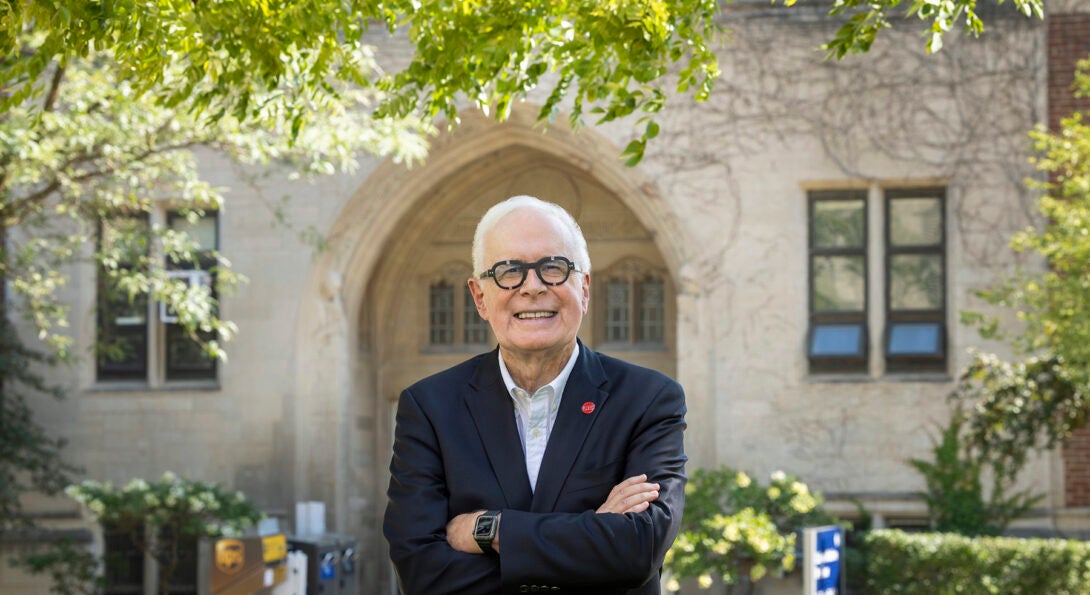 As a young man, Dr. G. Stephen Irwin had earned two chemical engineering degrees and was working for the Chevron Oil company when he realized his true calling was to become a doctor.
Dr. Irwin knew the only way he could make this career change work was to find a first-rate medical school with "reasonable" tuition. He searched schools across the country and enrolled at the College of Medicine, from which he graduated in 1977 with honors before completing five years of postgraduate education in orthopedics at the University of Illinois Hospital.
"My tuition at UIC was affordable and made the transition to medicine possible," Dr. Irwin said. "The quality of education and training were excellent. My career in medicine was transformative, and I never had second thoughts about the career change."
Dr. Irwin is giving back to the school that made his transformative career possible by establishing the G. Stephen Irwin Deanship in the College of Medicine.
College of Medicine Executive Dean Dr. Mark I. Rosenblatt Heading link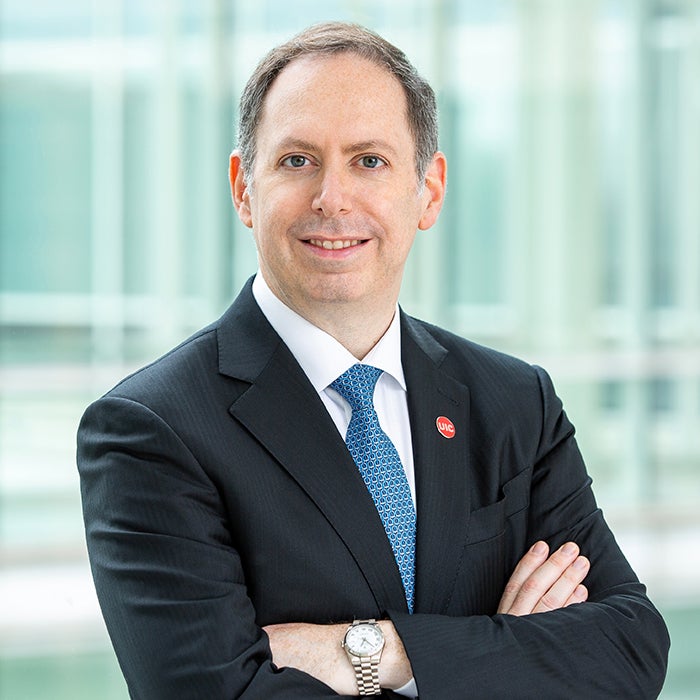 College of Medicine Executive Dean Dr. Mark I. Rosenblatt will be the first holder of a named deanship at UIC. Dr. Rosenblatt, who was named executive dean of the College of Medicine in 2019, officially assumed the named deanship Sept. 22. An investiture to celebrate the gift will take place Nov. 1.
"The dean's position is critical, and the deanship funding from the endowment will help the dean in many ways, including teaching excellence and faculty enhancement," Dr. Irwin said. "UIC as a whole is a novel, edgy, urban university and should be recognized as such by endowing the dean's position."
The College of Medicine is one of the largest and most diverse medical schools in the country. More than 40% of physicians in Illinois received a portion of their training at the College of Medicine, while 1 in 5 physicians in Illinois received their medical degree at the college.
Dr. Irwin has a long history of philanthropy with the University of Illinois System and, in 2007, was appointed to the University of Illinois Foundation board of directors. He was active on the board until 2019 and remains a life director.
He has contributed to the medical school in multiple ways, including scholarships, facility improvements, research and faculty support. He established the first endowed clinical nursing chair professorship at the UIC College of Nursing in his late wife Kathleen's name.
"We are proud to count Dr. Irwin among our alumni and are grateful for the decades he's spent supporting and championing UIC and its health sciences," said Tom Wamsley, UIC vice chancellor for advancement. "This endowment will allow the college to recruit powerhouse academics and leaders and support their visions and priorities for generations to come. It is fitting Dr. Mark Rosenblatt, and the medicine deans who follow him, will carry a title honoring Dr. Irwin."
UIC Vice Chancellor for Health Affairs Dr. Robert Barish noted Irwin's continued generosity is crucial because it allows faculty leaders to shape the future and careers of students while making life-changing discoveries in their research, which will lead to treatments in communities across the state and beyond. He also shared that named deanships help draw faculty committed to serving future generations.
"We remain focused on recruiting and retaining world-class faculty members who are committed to training leaders in medicine and serving our communities," Dr. Barish said. "A named deanship is special in that it provides transformational, enduring support to our outstanding faculty and allows the named dean to make investments that have profound collegewide impact."
Dr. Rosenblatt said the gift will allow him and all future deans to fulfill the college's mission to advance health for all and promote outstanding education, research and clinical care.
"I am forever grateful to Dr. Irwin for his continued generosity toward the College of Medicine and UIC," Dr. Rosenblatt said. "I am tremendously honored and humbled to be named the G. Stephen Irwin Executive Dean."
He said Irwin's commitment to the College of Medicine and UIC will inspire others to give back to the university as it prepares health practitioners and advances research.
"His dedication is a reminder to the members of our college that we have a profound social responsibility that comes with our longstanding role as a leading public medical school," Dr. Rosenblatt said.
The deanship will support highly innovative and impactful programs that further the college's mission to "continue our work to enhance health for everyone, including those traditionally underserved in both urban and rural areas," Dr. Rosenblatt said.
Specifically, he said it will allow the college to grow novel research programs that help change the face of medicine but require early investment from the endowment. In particular, the recently developed Center for Health Equity Using Machine Learning and Artificial Intelligence, the first of its kind, will employ funding from the deanship to implement new technologies and community partnerships to promote health equity through the application of modern data science to solve the problems faced by Illinois communities.
"The deanship will create opportunities to further strengthen our basic science and clinical translational research programs with the express goal of making discoveries that will improve the lives of our patients," Dr. Rosenblatt said.
Dr. Barish reflected that Irwin and his late wife, Kathleen, who also attended UIC, have enhanced the learning environment in the College of Medicine by sponsoring the G. Stephen and Kathleen Irwin Learning Center Auditorium through their philanthropy. In fact, the Kathleen M. Irwin Endowed Clinical Chair Professor in Outstanding Nursing Practice is believed to be one of the nation's few endowed positions at a Research 1 university for nursing faculty who are engaged in clinical practice.
"I am incredibly grateful for the visionary support of Dr. Irwin, who is deeply committed to the UI Health enterprise's academic, research and care mission," Dr. Barish said. "The extraordinary generosity Dr. Irwin has shown over many years remains a source of great inspiration and appreciation for this continued investment."
Modified on October 16, 2023