Inspiring grads: Kate Rahbari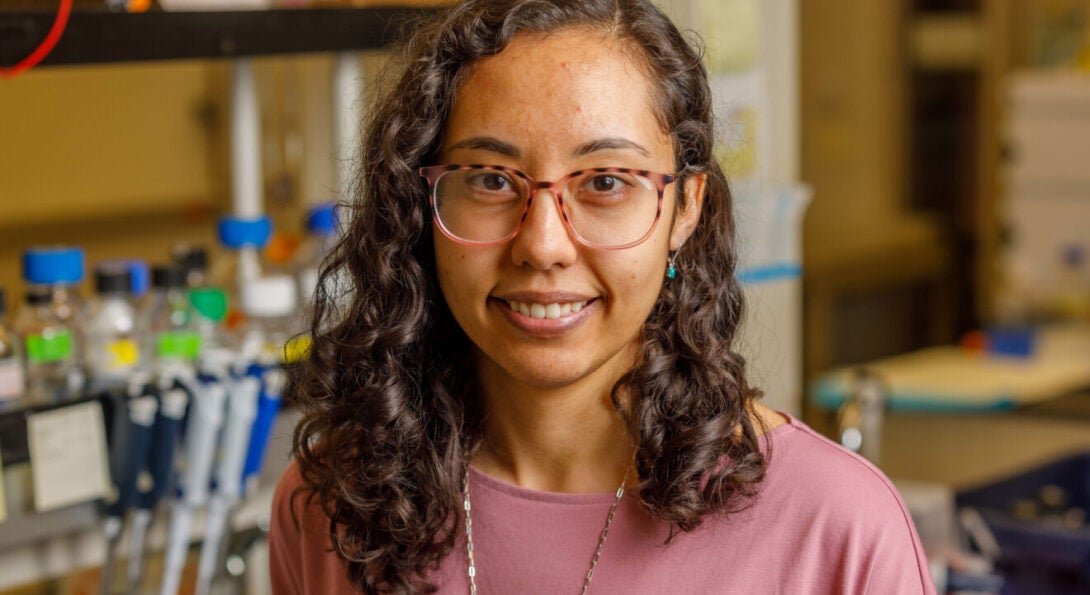 Four years as an undergraduate. Two years as a National Institutes of Health research fellow. Eight years as a student in UIC's combined MD-PhD program at the College of Medicine. Altogether, that's more than a decade of study and research, and hundreds of hours helping patients during clinical rotations.
For 2023 graduate Kate Rahbari, another of her most significant accomplishments of the past 14 years — along with her multiple degrees and legacy of research — is learning to let go of self-doubt and trusting her instincts.
"I've had impostor syndrome for forever," Rahbari said. "When I was an undergrad, I was undecided on a major, and I didn't think I was smart enough to do biology or medicine."
It was a university program aimed at helping underrepresented undergraduate students engage in STEM fields that started to change things for Rahbari, who grew up in Pennsylvania and whose dad is Iranian and whose mom is a member of the Haliwa-Saponi Tribe of North Carolina.
"I have a really interesting background, and because of that I've always sought out education in diverse places," Rahbari said.
Rahbari settled on biology as her major and started working on research projects in autoimmunity.
"That's where I found out that being a scientist is a real thing. I never knew that before," she said.
Still, Rahbari was nervous about pursuing a career in science, even though she had set her sights on UIC's combined medical and doctoral degree program. That's how she ended up at the National Institutes of Health: "Before committing to an eight-year program, I wanted more research experience," she said.
At the NIH, Rahbari was part of a program that studied HIV.
"I wanted to do more immunology work, and I was placed in a lab studying tetherin, a host-restriction factor for HIV — it's a way that our own cells counteract HIV. I studied its biological function in T cells," Rahbari said. "And then when I came to UIC, I had this expertise in immunology from undergrad, and I had an interest in host-pathogen interactions from the NIH, so I joined Professor Mike Federle's lab. He studies a way that bacteria communicate with each other called quorum sensing."
At UIC, Rahbari earned a grant from the NIH and helped the lab explore new directions. She has published five papers, including a 2021 paper on how the bacteria that causes strep throat evades the immune system through quorum sensing.
She also worked with other Native American students and helped the College of Medicine implement a program to offer in-state tuition to students who are members of any of the 573 tribal nations recognized by the Bureau of Indian Affairs. She has been engaged with UIC's Native American Support Program as well.
"There's a lot of unique challenges in terms of Indigenous membership, but I'm hoping that we've gotten the ball rolling for additional support and recognition for Indigenous students," Rahbari said.
She's built a lot of confidence over the years and said she hopes that everyone recognizes the danger of listening to self-doubt or the comments of naysayers.
"I think that the main thing that I've learned, having accomplished things that I never thought that I could accomplish, is that it gets better over time," she said. "When I look back at how I was an undergrad and the way I thought about myself and the way I looked at myself, it's completely different now.
"But then even if I talk to my mentors who have been experts in their field for decades, they still have moments where they experience it. So, I would say: Don't listen to those thoughts. And if people tell you that you can't do something because of a score or grade, just focus on what you want to do and don't give up."
Rahbari is now taking on the next challenge: a four-year obstetrics and gynecology residency at the University of Alabama at Birmingham, which she says "just feels right" as the next step in her serendipitous journey. Her goal is to leverage what she's learned over the past 14 years to build a career around supporting women and combating health disparities.
"It's nice to be able to be there for somebody," Rahbari said. "It's wonderful to be there for them in a happy moment like delivering their baby, but the sad moments are sometimes more powerful, for me at least… Just being able to share that moment with them is such a privilege."
Contact
Jacqueline Carey
312-996-8277
jmcarey@uic.edu
twitter.com/JCareyUIC
Modified on May 08, 2023