Orthopedic Surgery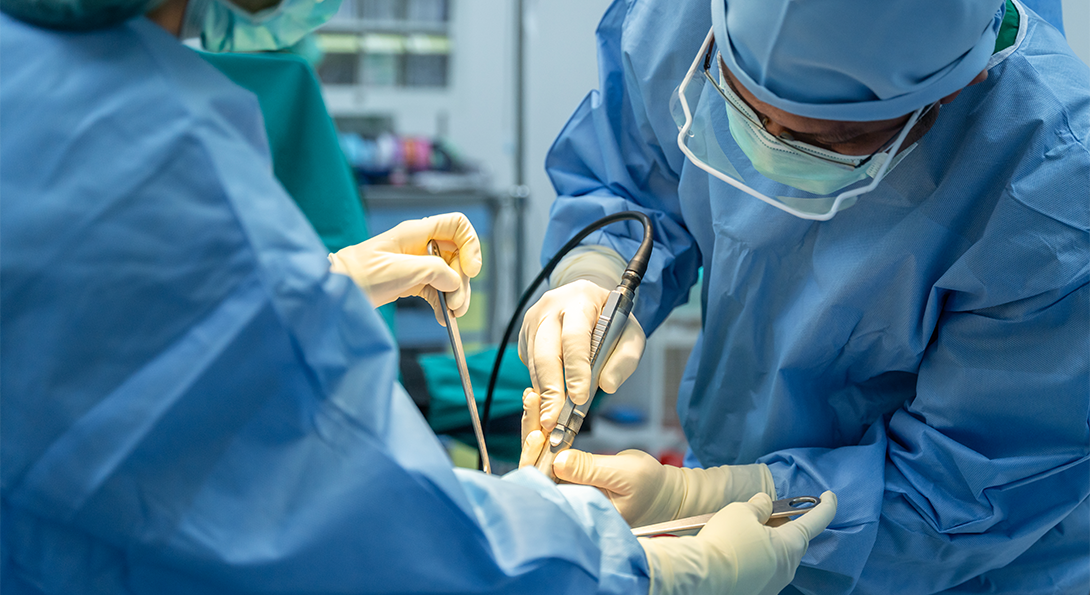 This online repository houses relevant resources and contact information for students seeking career advice. We encourage you to review the career-related materials provided (e.g. Specialty Webinar, Interview Questions, Research, etc.) as you seek support in your journey through medical school.
If you have further questions that are not addressed on this page, please feel free to contact a Specialty Faculty Mentor for further guidance.
Match Preparation and Charting Outcomes Heading link
You are more than your Step Scores! Use the NRMP page to look at the qualifications of applicants who have successfully applied to your specialty.
Chicago

What is Orthopedic Surgery?

Orthopedic Surgery is the medical specialty that involves treatment of the musculoskeletal system in both adults and children. This includes the limbs and the spine. Orthopedic surgeons diagnose and treat traumatic injuries, degenerative conditions, and oncology involving the musculoskeletal system. The field of orthopedics is constantly evolving as new materials, improved imaging and computer modeling have greatly improved the success of orthopedic operations. Subspecialties in orthopedic surgery include orthopedic trauma, hand surgery, spine surgery, orthopedic oncology, shoulder and elbow surgery, foot and ankle surgery, sports medicine, total joint arthroplasty, and pediatric orthopedics

Residency

There are 154 accredited residency programs in the United States in orthopedic surgery. There are 742 residency positions to be filled annually. There were 987 applicants in 2019. (1.33 applicants per position).The residency program is 5 years to become board eligible. The five years consists of a year long internship followed by 4 years of training in orthopedic surgery.The internship is 50% orthopedics and 50% other disciplines related to orthopedic surgery.

Matching in orthopedic surgery

Orthopedic surgery is one of the most competitive specialties. The average board score for an acceptable applicant on step 1 is 248 and 255 on step 2.
The average successful applicant has 11.5 research annotations in their application which include case reports, clinical publications, research publications and presentations at local regional or national meetings.

Pursuing a Career in Orthopedics

First year students who have a serious interest in orthopedic surgery as a career are encouraged to shadow some of the orthopedic staff both in the clinic and the operating room to get a better understanding of the field.
If a first year student has a bona fide interest they are encouraged to participate in research activities through our department or through another department .The aim is to further their knowledge of orthopedic surgery while building their resume to be competitive in the match. As new materials methods and techniques arise in surgery practicing surgeons will be asked to evaluate these developments and consider implementation in their own practice. Training in research methodology will prove invaluable in evaluating studies for validity and significance. Students are encouraged to work on a research project through the Summer of their first year and continue the research through their medical school tenure.
Students are encouraged to prepare in earnest for the USMLE step 1 and step 2 as in a field such as orthopedics a competitive score is critical. Many programs receive up to 800 or more applicants and filters based on step 1 score are frequently used to decide on who will be offered an interview.
Frequently students have not been exposed to orthopedic surgery until later in their medical school career and decide on a career in orthopedic surgery in their second or third year of medical school. Students who do not have the requisite research can be at a disadvantage and some decide to do an extra year of research either between their third and fourth year or after their fourth year but prior to graduation. The student is advised to meet with an adviser to formulate a plan.

Summer Research Opportunities

First year students who have an interest in Orthopedic Surgery are encouraged to contact the department about Summer research opportunities . Students can apply for a Summer Crag fellowship. Students complete an application and are competitively chosen for funding. Similar stipends are available through the Hispanic Center of Excellence and the Urban Health program for qualified applicants.
To increase racial/ethnic and gender diversity in Orthopedic Surgery Nth Dimensions has created summer internships. This program sponsors research between the first and second year of medical school and provides funding for students to attend the Academy of Orthopedic Surgery meeting annually. The program provides mentoring and information on the match process.

Orthopedic Research at UIC

The department of orthopedics at the U of I has a robust research program both in basic science and clinical research. Our research fellow coordinates the research projects and assigns projects to interested students based on interest and student availability. The research team meets weekly on Friday afternoons except for the Summer months when the meetings are bi monthly.

Scheduling an Orthopedic Rotation at the U of I

Students enter the lottery during their M-3 year and apply for a desirable orthopedic block. After the lottery those who were not selected should contact the student coordinator Susan King and every effort will be made to accommodate students who are planning a career in orthopedics. Students who have completed their M-3 Core sometimes use the last block of their third year for their orthopedic rotation allowing them more leeway for away rotations during their fourth year. The home rotation does not have to be their first and students who do their U of I rotation later sometimes find it is less crowded and more personalized.We welcome students from Peoria Rockford and Urbana to do a rotation at the UIC and Dr Gonzalez will write a chairman's letter for rotating Illinois students.

Scheduling Away Rotations

The student should meet with their adviser prior to scheduling their away rotations. Students are able to showcase their talents and abilities when doing an away rotation and they have a greater chance of matching in programs where they have performed well in a rotation. Factors include location (where would the potential resident like to do their residency) and the academic record of the student. A student who has a less competitive resume may consider rotating at programs that may be less competitive such as community or hospital based programs.

Orthopedic Boot Camp

The University of Illinois department of Orthopedics in collaboration with the Orthopedic Interest Group at the University of Illinois sponsors a series of sessions where medical students are taught basic skills such as basic x ray interpretation, casting and splinting and suturing. The emphasis is on skills that a rotating medical student would need to do well on their orthopedic clerkships. Students are encouraged to attend these sessions prior to starting their clerkships.

Mock Interview Program

The Department of Orthopedics conducts mock interviews to prepare medical students who are planning to apply for an orthopedic residency position in the match. The mock interviews take place in the Fall prior to the match interviews. The students are given immediate feedback on their interview skills and tips on how to prepare for the real interview.

Residency Application Process

Medical students applying in orthopedic surgery must realize that this is a competitive specialty and that every year qualified applicants can go unmatched. Students should apply to a large number of programs and go on as many interviews as possible. Students often apply to more than 60 programs.
We strongly advise that students review the process with a mentor who understands the selection process. Students who have less competitive scores for example may consider applying in a second field as a backup. Students who have a limited research portfolio may consider doing a research prior to applying for the match.
All students should have a back up plan in the event that they don't match. The unmatched student should meet with their adviser and do a detailed root cause analysis to identify and correct deficiencies or decide on a different path. Reapplying after going unmatched is difficult and deliberate consideration of all options is critical.

Prospective student database

Students who are interested in orthopedics asa career are encouraged to fill out a mentoring form in the Department of Orthopedics. This will provide information for the mentor in advising the student. After completing the form the students can request a one on one meeting with an orthopedic attending who will initiate the mentoring process.

Orthopedic Open House:

The Department of Orthopedics hosts an annual open house where the field orthopedic surgery and the application process will be discussed in detail. There will be ample time for questions and to meet with faculty. Students from all campuses are encouraged to attend. This year the open house will be on Saturday April 13 from 8-11am.

Meeting with Peoria and Rockford students

Dr Gonzalez U of I Orthopedic Chair and Dr Mejia Vice Chair and program director make a semi annual trip to both Rockford and Peoria to meet with interested students and discuss the match process.

For further guidance, contact our specialty faculty liaison:
The NRMP publishes a survey of Applicants each year. This report presents the results of selected items from the 2022 NRMP Applicant Survey. The report documents factors that applicants weigh in selecting programs (1) at which to interview and (2) to rank in the Main Residency Match. It can be found HERE.
The NRMP Publishes a survey of Residency Program Directors. This report examines the factors program directors use to select applicants to interview and rank. Data are reported for 22 specialties and the transitional year in the Main Residency Match. It can be found HERE.
Looking for residency programs?  The AAMC interactive, Careers in Medicine Website is where you should be! LINK
Having difficulty deciphering this information?  Contact your Student Affairs Career Advisor on your campus!!!
Below you will find resources to help you get started when applying for residency.